RECEIVER 134 - 141 MHZ
IN EXECUTION
PROFESSIONAL, ready for NOAA-18 frequencies
The receiver 134 – 141 MHz in execution Professional is placed in a "luxury" box made by BOPLA and it has moreover another electronic circuit for recognition of presence of the signal WEFAX 2400 Hz, which collaborates with the system of automatic search of current passage of the satellite NOAA and stopping of the mode SCAN at the current frequency in the band 134.00 MHz – 141.00 MHz.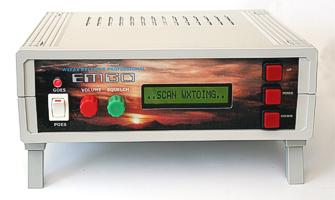 Receiver 134 – 141 MHz Professional (new model)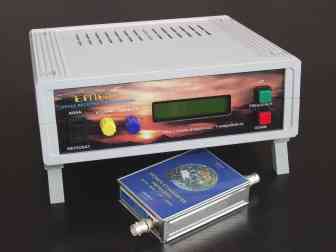 Receiver 137 – 141 MHz Professional (old model)
Front panel contains control push-buttons for selection of working frequencies, working mode of the receiver and a switch for selection of antenna, from which the received signal will be processed. Rear panel of the box contains two antenna connectors for independent connection of signal from converter LNC1700 and signals from antenna Turnstile for polar satellites. Rear panel also contains 2 connectors CINCH for connection of speaker and for cable from the computer sound card. The fifth connector serves for connection of power supply + 12 V. The set comprises also power supply +12 volt / 500 mA. The receiver in execution PROFESSIONAL is ready for reliable operation in continuous mode on professional worksite>>>.
Pre-amplifier GaAs FET 1,7 GHz +25 metre coax. cable + connectors

The assembled and tuned Converter: 1691.00 - 1694.50 MHz / 137.50 - 141.00 MHz or 1691.00 - 1694.50 MHz / 134.00 - 137.50 MHz

The assembled and tuned receiver 134 - 141 MHz / 30 kHz / step 10 kHz with LCD display
... is available at a price of 442 EUR
... (separately - only receiver) is available at a price of 241 EUR

Receiver technical data >>>
Delivery term of the ordered goods: four to six weeks.
The FM Receiver with LCD display can be ordered with input frequency 134 – 141 MHz
(or alternately 155 - 158 MHz/30kHz/step 10kHz, or 144 - 146 MHz/15kHz/step 12,5kHz).